Important Tax Changes for 2018
January, 2018
Courtesy of our Partners at TaxRite.
As the New Year rolls around, it's always a sure bet that there will be changes to current tax law and 2018 is no different now that many of the tax provisions pursuant to the Tax Cuts and Jobs Act of 2017 (TCJA) are in full effect. From health savings accounts to tax rate schedules and standard deductions, here's a checklist of tax changes to help you plan the year ahead.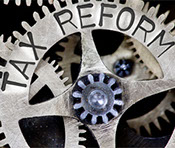 December, 2017
As we look forward to the New Year, many of us will be making the usual new year's resolutions. Perhaps you're considering one or more of the more common resolutions such as those on Inc.com as the 10 Top New Year's Resolutions for Success and Happiness in 2017:
October, 2017
Every time news breaks about the latest data breach it is unnerving and leaves us to consider if or how it might affect us. Nobody likes that sinking feeling when the breach occurs at a company we've done business with or have an account with as we come to terms with our greatly increased vulnerability to identity fraud.
How to find the right attorney for you
September, 2017
Stuff happens. Traffic infractions, real estate sales, home rentals or purchases, family matters, etc. When a medical issue or question arises, most of us have a doctor we call... but what about when you have a legal need? Who do you turn to? How do you go about selecting the right attorney for you?
Identity theft is still on the rise
August, 2017
By now we've all heard more than we'd like to about identity theft. Everywhere we turn there are advertisements and news stories about it. Many of us know someone who's been affected or have been victims ourselves. The stories are ever present and awareness of identity theft is at an all time high. Unfortunately, the statistics are climbing and incidence of identity fraud is also at an all time high.
Boosting employee morale and productivity with Group Legal Plans
July, 2017
Let's face it, it's a fact that employees don't leave their personal problems in the parking lot when they come to work. Forward thinking employers recognize this and take the steps necessary to ensure their employees resolve their issues quickly and seamlessly so they can return to being happy, productive workers.
Financial Wellness is an important component of any comprehensive employee benefits plan
June, 2017
We all know how important it is to limit distractions at work. It seems obvious that productivity will suffer when an employee is sick and working at a reduced capacity or unable to work altogether. But what about if the employee is in perfect physical health, but struggling with their personal finances. This can cause stress and distractions that are much less obvious than say, the flu, but can still result in reduced productivity in the workplace a.k.a. presenteeism.
A word about VEBB, helping to better the voluntary benefits industry
May, 2017
By Donald A. Rowe
Vice President Employee Benefits, Legal Club and VEBB Past President
I attended the annual VEBB meeting last month in Indianapolis. VEBB is an acronym for Voluntary Employee Benefits Board. This carrier-only organization meets annually to talk about what is going on in the voluntary benefits industry, holding it's Annual Meeting one day prior to the start of the yearly Benefits Pro Expo at the same location.
Group legal can help you have a successful re-enrollment
April, 2017
Voluntary benefits are like a garden. And like any garden, the voluntary benefits garden needs tending. It's not "fire and forget", you need to check on it. It's a way for you to continually layer new products each year into the client's employee benefits offering. You don't have to offer them all, nor do you have to offer them all at once. Come back to it frequently to make it work.